News: Closed Alpha launch
2019/09/10
Greetings adventurers!
After all those months of work and tests, we have great news for everyone:
THE CLOSED ALPHA OF NAÏCA WILL LAUNCH ON SEPTEMBER 24!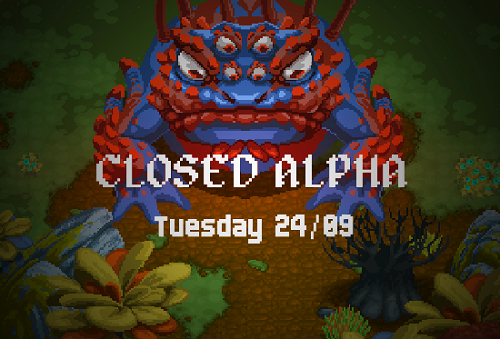 Access will be sent at random to players (donators will be prioritized). Once the closed Alpha is launched, access will be sent every week and their capacity will increase over time.
YOUR FIRST LEVELS
We made a big shift to Naïca the past few days: because the continent of Lazul is in the end way bigger than we had imagined in 2018, we decided to increase the maximum level from 10 to 30.
The more the development progressed the more we felt Lazul was huge. We want your progression to reflect the world you are in, and only 10 tiny levels didn't seem like a proper fit for such a huge continent.
During the closed Alpha you will play in the swamp of Lazul, which was a level 5 to 7 zone and is now a level 15 to 19 zone.
WHAT'S NEXT?
The closed Alpha is going to evolve: we plan to release a lot of content throughout the months to come. Nevertheless, some new content may take more time than planned to be developed and tested (as often in the video game sector).
Here is a brief presentation of the closed Alpha updates:
October: talent points reset, friend list, zone crystals.
November: iOS and Mac versions, Elite dungeon system.
December: guilds.
Early 2020: more to come…
A more detailed roadmap will be available later on, on our website. We will keep you informed before every update.
The next zone to be released is the forest of Lazul which is 7 times bigger than the swamp (yes, Lazul is big). The professions (crafting) will be released alongside this zone. More details will be shared later!


Rendezvous on September 24,
Team Naïca