Crystal Ridges launch date
2020/07/10
Greetings adventurer!
The dreadful bandits camp is pitched in the Crystal Ridges, at the extreme-east of Lazul. It is a deserted environment where only a handful of adventurers dare to fight monsters and disreputable bandits. Will you reach Durocan, their ferocious leader?
CRYSTAL RIDGES WILL BE AVAILABLE ON JULY 21 AT 16:00 CEST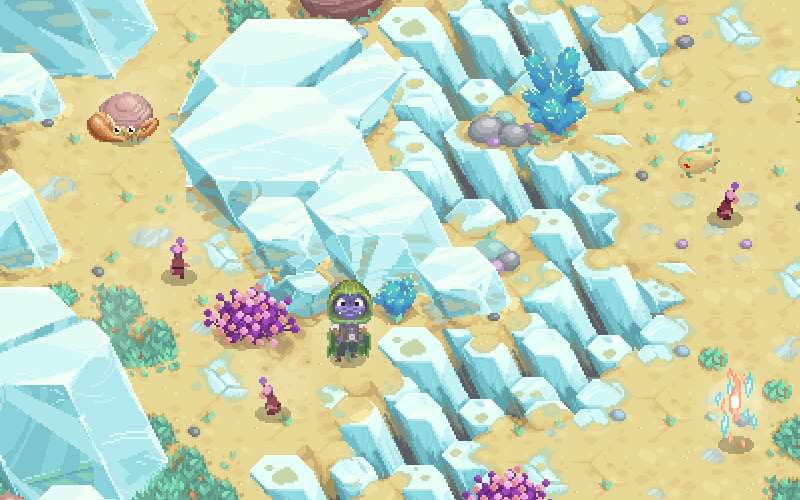 At the release of this new zone, all accounts will be reset. You will start again your adventure in the Cerulean Forest at level 8, with the tutorial.
Requested by many of you, the translations are finally here for french, spanish and portuguese! English has also been improved by the localization company we are in contact with. You will be able to choose your in-game language at the login screen.
And surprise, you will also be able to choose the race of your character!
We are preparing the release of the open Beta (planned for Q3 2020) by changing the progression and levels of the zones, so that it fits our vision:
- Level 8-15: Cerulean Forest
- Level 15-20: Crystal Ridges
- Level 20-25: Acoreux Swamp
The Crystal Ridges will add 30 new quests, new monsters, a new armor and the bandits camp!
We also want to test the mount system: you will be able to purchase one to the merchant, at 1 symbolic crystal coin! This way, we will get as much feedback as possible.
On July 17, we will close the servers and perform a maintenance on Naïca.
Naïca will be available again starting July 21 at 16:00 CEST on PC, Android and iOS (in closed Alpha).
WARNING! AT THE LAUNCH OF THE CRYSTAL RIDGES, EVERY ACCOUNT WILL BE RESET: PROGRESS, EQUIPMENT, FRIENDS LIST AND GUILDS WILL BE DELETED.
If you missed them, you can find all of our previous announcements here.

See you in game!
Team Naïca